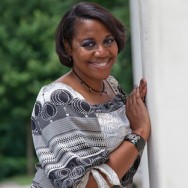 Isha Edwards is the owner of and a brand marketing consultant for EPiC Measures, LLC (EM). In part, Isha's role at EM involves developing brand-driven marketing initiatives, which align with a company or individual's core values. Examples include the Global Business Mixer, the Business Development Exchange and the Marketing Mashup & Mixer. Along with managing client assignments, Isha is a speaker and teacher who has provided marketing instruction for Emory Univeristy Continuing Education, General Assembly and NeighborWorks America.
Isha earned a degree in business management from the University of Illinois at Chicago. Through executive education studies, she obtained certificates in Branding and Integrated Marketing and Strategic Marketing from the University of Southern California's Marshall School of Business. She has over 20 years of combined experience providing business and marketing support for corporate and nonprofit organizations as well as media and entertainment entities in Atlanta, Chicago, Los Angeles, New York, London, Ontario, Cape Town, Johannesburg and Port of Spain.
Among a myriad of talents, Isha is an avid writer whose work has been featured in various business and entertainment outlets in the U.S., Bogotá, London and Ontario. In December 2007, Isha made her book editorial debut in marketing scholar, Dr. Jagdish Sheth's Chindia Rising: How China and India Will Benefit Your Business. She has since edited Dr. Sheth's autobiography, which was released by Sage Publishing in India in October 2014. Isha served as both editor and marketing consultant for the autobiography. Through EM, she has also served as a marketing research editor for assistant professor of marketing, Dr. Arne Floh at Wien University in Vienna, Austria.
In March 2008, Isha became a guest expert for The Urban Network's Music Entertainment & Marketing Summit in Los Angeles. She has since served as a guest speaker and advocate for music performing rights organization, SESAC as well as a panelist for The Recording Academy's Grammy University Network in Atlanta. For over a year, Isha served as a business plan advisor via the Branson School of Entrepreneurship in Johannesburg, South Africa. Thereafter, she became an advisor for the University of Southern California's Marshall Consulting Program for three years. From 2010 to 2011, Isha served as the U.S. ambassador for the Entrepreneurship Incubator's Leadership Project in Cape Town, South Africa. Currently, she is a collaborator with the Entrepreneurship Education Project; a longitudinal, data-driven study geared towards enhancing entrepreneurial self-efficacy and identity.
An expert in business, branding, entertainment, and education, Isha has been a guest on various radio broadcasts including SUNY's Old Westbury Online Radio in Old Westbury, NY, Rejoice 94.7 WAAW in Aiken, SC, Business Radiox's The Winner's Circle in Atlanta, GA and Chicago, IL based, Touching Millions Blog Talk Radio and WVON am 1690's Watch Your Business. Prominent business periodicals, Inc.com, Investor's Business Daily and Black Enterprise have cited Isha's practical advice to business owners and leaders as have All Biz Answers, BrandMakerNews, UpStart Smart, Fan Bridge, The Los Angeles Post and Media Bistro, among other publications.
To her credit, Isha's accomplishments have been highlighted in New York based, The Industry Cosign as well as via American Express' OPEN Forum ®. In 2009, The Chic Entrepreneur recognized Isha as "Chic of the Week" March 9-15, 2009. Isha was later the featured business woman in the July 2009 edition of Pink Ladders. Dubbed as an "outstanding alumni whose contributions in [leadership, teaching, research, and service] raise the stature and standing of the College", on February 23, 2010, Isha was inducted into the University of Illinois – Chicago (UIC) College of Business Administration's 2010 Alumni Leadership Academy. In May 2012, the College of Busines presented Isha with their "Outstanding Mentor" award.
Isha is a reservoir of resources who enjoys entertainment and the performing arts, particularly music and dance. Her spare time is occupied with mentoring and providing career counseling to youth and young adults.